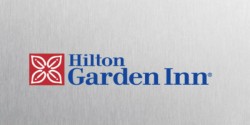 The prestigious chains of hotels Hilton will arrive in Malaga this spring with a four star hotel. The owners of the old Novotel Malaga, located on Avenida de Velázquez, have signed an agreement for the HRU chain to exploit this property in the Hilton Garden Inn franchise.
Málaga advances in its hotels. The signature Hilton Garden Inn landed in the city from the hand of Girona chain HRU, which operated under the franchise house until early 2012. 
The agreement is now closed. Moreover, they have already started works in order to open early next March a new four star hotel with 156 rooms. The opening of this property does not involve the execution of large works, but just some reparation and reforms to adapt to the quality standards of the brand Hilton Garden Inn.
The company HRU is specialized in the management and operation of hotels under its brand or hand international companies like Hilton or Marriot, as stipulated in the website, which features a portfolio of establishments located in Catalonia and in the Basque Country. One of those located in the Catalan community, the Double Tree By Hilton Emporda, a resort dedicated to golf, is one of those operating under the franchise of this international brand.
In the case of Málaga, the hotel will be under the signature Hilton Garden Inn, franchise with which this group operates exclusive mid-priced hotels focused on business and leisure stays. In Andalusia, Seville has a Hilton Garden Inn, also four star hotel in the business park area, according to the data recorded by the giant Hilton on their website, which offers eight establishments in Spain.
The goal is to finish all the work and open this hotel approximately the 1st March 2015. This opening will increase the hotels of the city at a time that Malaga has closed a historic year in travelers and stays and manages to consolidate as the Spanish urban destination with the best progress leading indicator of activity. Regarding this, it is recalled that the capital exceeded in 2014 for the first time the number of one million travelers staying in hotels and two million overnight stays. Also occupancy increased to 70%, five percentage points higher than in 2013, with a lot less than other destinations beset the country seasonality. Hilton is one of the largest international firms seeking square in the capital to increase the value of Malaga as destination.