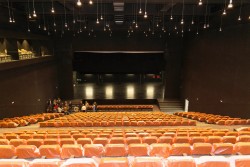 After a year and a half after the laying of the foundation stone, the Auditorium Theatre of the Costa del Sol, bearing the name of Felipe VI is due for inauguration on March 5. The construction company Sando will perform the remaining exterior works of construction as they presented the main improvement project cutting 20 percent at the time of finalization. Outside the building there will be a square, gardens and parking area.
While already working in the inauguration of the Teatro Auditorio Felipe VI, the Councillor for Public Works, Infrastructure and Tourism, Ana Velasco explained that the contractor of these works also presented other improvements such as street furniture and the ornamental fountain to be located next to the entrance. 
These works have a funding of 500,000 euro from Diputacion of Malaga, focusing on the paving of the entire area, provision of outdoor lighting, installation of roof drainage, design and implementation of parking, cleanliness and adequacy of the neighboring plots and treatment of slopes.
Other improvements made by the company that is responsible for this latest work consists of dealing with the landscaping of the area through the provision of various plant species, installation of street furniture and outdoor lighting of the plot area parking and the building that houses the Auditorio Felipe VI.
Velasco said that the square to be created at the entrance of the enclosure will be named after the deputy Ignacio Mena, who passed away last summer and was one of the initiators of the creation of this infrastructure. The aim of this space will be to host cultural and leisure activities complementing the theater program.
The construction work to access road to the building is ongoing and is expected to be completed in the near future. These works include the creation of a 400 meters long and 15 wide road, with parking spots and sidewalks on both sides.
The building had a budget of 5.7 million euros, which were financed equally by the cities of Estepona and Malaga. The infrastructure will have a main hall with capacity for 600 people and an auxiliary stay which may be allocated to multiple uses. It will also include a semi open lobby where different exhibitions will be installed.