The Hard Rock Hotel in Marbella opened its doors on July 14, 2022. It is a splendid addition to the glamorous Costa Del Sol. With its innovative design, immersive brand experiences, and a culinary scene that tantalizes the most discerning taste buds, this hotel is ready to electrify the region. Here's an in-depth look at what makes this hotel a fabulous destination.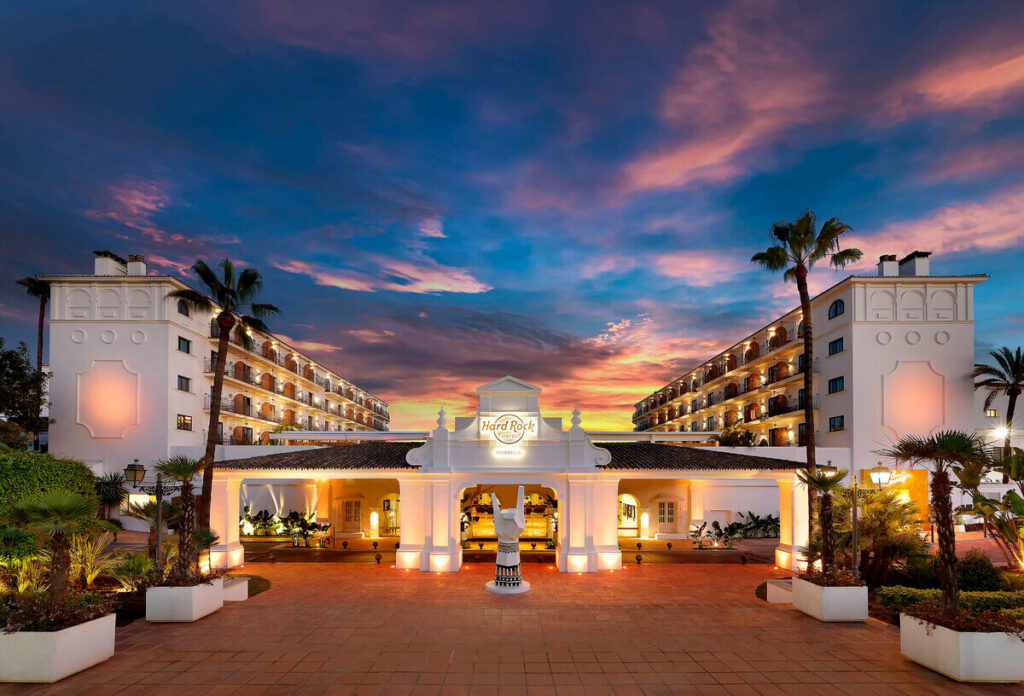 An Innovative Design and Location
Located in Puerto Banús, Costa del Sol, the Hard Rock Hotel Marbella is a gorgeous property designed by Studio Gronda. The hotel features contemporary interior designs that blend Hard Rock's aesthetic with local cultural references. With a total of 383 rooms, including 64 suites, the hotel offers attractive accommodations that reflect the immersive music environment for which Hard Rock Hotels are known.
A Closer Look at the Rooms and Suites
The Hard Rock Hotel in Marbella boasts 383 rooms, including 64 luxurious suites. Each room is designed to provide a zen experience, blending comfort with Hard Rock's signature style. The rooms are equipped with modern amenities and offer stunning views of the surrounding landscape. Whether you're looking for a cozy room for a romantic getaway or a spacious suite for a family vacation, the hotel has something to suit your needs.
Culinary Delights for Discerning Tastebuds
Guests can enjoy a fantastic culinary experience at two restaurants: Nu Downtown and Sessions. The sky lounge bar, Sun Society, with an infinity rooftop pool, offers a glamorous setting for cocktails and relaxation. The culinary offerings are designed to cater to various tastes, making dining at the Hard Rock Hotel Marbella a memorable experience.
Unique and Immersive Brand Experiences
The Hard Rock Hotel Marbella showcases a curated collection of music memorabilia featuring Spanish musical icons and international legends. Guests can indulge in live concerts and performances, relax with yoga and music sessions through the Rock Om® amenity, or work out at the BODY ROCK® Fitness Centre.
The hotel also provides signature brand experiences exclusive to Hard Rock Hotels, such as the Sound of Your Stay®, Unleashed® pet program, and Crosley record players. These amenities add to the unique charm of the hotel, making it a destination for music lovers and those seeking a vibrant and energetic atmosphere.
Entertainment and Nightlife
The Hard Rock Hotel Marbella is synonymous with entertainment. The hotel offers live concerts and performances, creating a vibrant atmosphere that resonates with music lovers. The curated collection of music memorabilia adds to the hotel's charm, allowing guests to connect with the legends of music.
Wellness and Spa Facilities
For those looking to relax and rejuvenate, the hotel offers a range of wellness and spa facilities. The Rock Om® amenity provides yoga and music sessions, allowing guests to find their inner peace. The BODY ROCK® Fitness Centre is equipped with state-of-the-art equipment for fitness enthusiasts.
Family-Friendly Amenities
The Hard Rock Hotel Marbella is not just for adults; it offers a range of family-friendly amenities. The Unleashed® pet program ensures that even your furry friends are taken care of. With activities and facilities designed for children, it's a destination that caters to the entire family.
Sustainability and Community Engagement
The Hard Rock Hotel Marbella is committed to sustainability and community engagement. The hotel's practices reflect a responsible approach to the environment and a commitment to supporting local communities.
Accessibility and Rates
The Hard Rock Hotel Marbella is easily accessible from Malaga Airport, making it a convenient destination for travelers. Introductory nightly rates start from €235, offering a range of options for different budgets.
Conclusion
The Hard Rock Hotel in Marbella is more than just a place to stay; it's a legendary experience that integrates into the fabric of Marbella as a vibrant destination. With its unique blend of music, culture, and luxury, it's set to become a must-visit spot on the Costa del Sol.