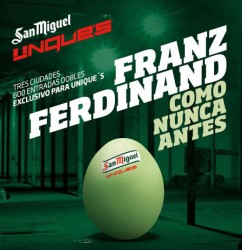 Indie-rock band Franz Ferdinand will be setting the stage alight here in Spain in November, with concerts in Barcelona, San Sebastian and Málaga.
The Scottish foursome, best known on the current indie-rock scene, for songs like their classic "Take Me Out" will be playing to an audience of just 1,200 people in Barcelona on November 4th, before moving on to San Sebastian on November 6th and Málaga on November 8th for what is purported to be a top-secret gig. The exact venues for all three concerts have not yet been disclosed.
For each concert, which is part of the "San Miguel Unique Tour", there are 600 pairs of tickets that can be obtained via a lottery system sponsored by the famous beer company. And for those of us who are perhaps not lucky enough to win a ticket, the concert will be streamed live on Facebook. But, of course!
Franz Ferdinand first experienced chart success in 2004 when their second single "Take Me Out" reached #3 in the UK Single Charts, followed by their debut album Franz Ferdinand which debuted on the UK album chart at #3. The band went on to win various prizes and several awards, of which were included 2 BRIT awards and several Grammy nominations.
Don't miss this exciting event!