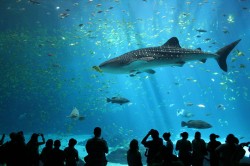 Earlier this week (20th October 2011) Costa del Sol was named by the Post Office as the best value-for-money destination for families in 2011, and it's easy to see why. The survey looked at 10 common purchases across 12 popular destinations before ascertaining that despite a 15% price rise throughout Spain that Costa del Sol was still the cheapest European destination.
So aside from the price, what is it that makes Costa del Sol such a tourist hot-spot with Brits? Not to overuse a cliché but this area of Spain really does offer something for everyone; from sandy beaches and an active nightlife to historic castles and old cobbled towns, the Costa del Sol has it all.  There are so many activities and sights to take in within Costa del Sol that it wouldn't be practical to list them all, so here is a collection of activities you may like.
Culture
Costa del Sol is ripe with culture, both in the form of art and architecture. One of the most famous artists, Pablo Picasso, was born in Málaga and so it is only fitting that The Picasso Museum is hosted in his home city. The museum boasts over 200 original works and offers temporary exhibitions, educational programmes and a specialised library. Málaga is also home to a completely different type of museum: the Hojiblanca Museum. The Hojiblanca museum is dedicated to the olive, in forms of olive oil and olive trees. Visitors can view ancient olive mills dating as far back as the 1st century, as well as have the opportunity to undertake olive oil tastings and purchase the final product.
Sports
Costa del Sol is a popular destination for golf enthusiasts, being home to several fantastic golf courses such as The Santa Clara in Marbella and The Finca Cortesín in Málaga. Some of these courses have been designed by world-renowned architects, which make them a pleasure to play on – especially in the glorious weather that is enjoyed in the Costa. If water sports are more to your liking then the waters of Costa del Sol are ideal for scuba diving, especially for beginners. Additionally in the right months (especially around Easter) windsurfing is a popular sport with Andalucia being home to the Toro Andaluz race.
Family
If you are visiting the Costas with your family then you may be content in enjoying the magnificent beaches and lovely restaurants; however, for the more active family there is a range of entertainment that should appeal to the whole family. For example, The Cocodrilos Park in Málaga specialises in crocodiles with more than 300 different types of species; for those who wish to, visitors can hold a baby crocodile and have their photo taken for free!
Whatever you decide to do on your holiday in Costa del Sol, making sure that you and your family are covered with adequate travel insurance is essential – and it doesn't have to be expensive. For example, Staysure covers 8 days in Costa del Sol from £4.99 per adult with children being covered for free. Travel insurance allows you the peace of mind that you're fully protected to enjoy your holiday.