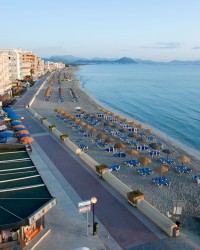 Majorca in sunny Spain features among the top holiday getaways across the world. This Balearic island is blessed with abundant natural beauty; the sandy beaches and clear waters, mountains and vineyards, greenery and fresh air make the place irresistible to tourists. With luxurious resorts springing up around the island and international celebrities building holiday homes here, it has become quite an expensive place. However, there are several ways to enjoy Majorca on the cheap.
Majorca Main Attractions:
Palma de Mallorca
Palma de Mallorca is the capital city of Majorca and has lots to offer including night clubs, markets bursting with color, holiday resorts and an action-packed entertainment calendar. Take a tour of Coves del Drach to see a magnificent light show around Lake Martel, the world's biggest underwater sub-Mediterranean lake within a cave. The temperature inside always hovers in the range of 20 to 25 ºC, so it is a great idea to take this trip on a very hot day. 
Sleepy Villages of Caimari and Puerto de Pollenca
Caimari offers many flavors of rural Spanish life with its quaint cottages, winding streets lined by cafes and the general slow pace of life. Take pleasant walks around the country or along the Alcudia beach nearby. Puerto de Pollenca is a picturesque fishing village. The clear bay draws tourists and artists who seek inspiration from the sea, greenery and the surrounding mountains. If you are lucky, you might spot some celebrities on their yachts. Do try out the local restaurants for some of the freshest, tastiest fish you've ever had
Additional Info
Since most tourists flock to the glorious Majorcan beaches from May through September, you can escape the crowds and avail of the off-peak rates for accommodation, food and activities by planning your holiday in October. It is still quite warm this time of the year and Majorca has plenty of sunshine all year round, so you will be able to enjoy the beaches and the water. Alternatively, you can visit here in April; spring treats include Easter festivities, perfectly pleasant weather for long walks and the delicious fragrance of almond blossoms everywhere.
Look out for charter flights or last-minute deals that offer cheap holidays to Majorca. Ferries regularly take visitors from places like Malaga, Cadiz or Alicante on the Spanish mainland to this island destination.
There is no shortage of modern man-made attractions like water theme parks and golf resorts that provide top-class entertainment. But when on a short trip here, you should make the most of the treasures that nature has endowed on this island.
The Palma de Mallorca region is blessed with a good transportation system and many buses ply the major beach routes. As you go further north, public transportation options dwindle because of the hilly terrain. It is better to rent a 4×4 vehicle and drive yourself around. It is much cheaper to book your rental car online sufficiently in advance of traveling in Majorca; this also allows you to enjoy a worry-free holiday once you arrive.
Of course, the best way to explore the treasures of the island is to hike or rent a bike. This mode of getting around will give you good exercise while you can get an up-close view of the monuments and the scenery.
Appreciate the true joys of alfresco dining while in Majorca; the smell of the ocean combined with the good weather is sure to whet your appetite.
There are accommodation options to suit all budgets, so you can have an exotic holiday without breaking the bank.