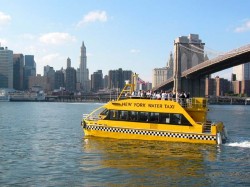 A group of entrepreneurs from Malaga are set to launch an alternative way to travel between Malaga and the rest of the Costa del Sol. They have set up a company in Fuengirola called "Aqua Taxi", the first of it's kind in Spain and hope to have the service up and running by Easter of this year.
They have brought one of the twelve-seater boats over from Southampton in the UK, and are in negotiations with national shipyards to manufacture the rest of the boats needed to provide the service. Their ultimate goal is to extend the services offered by their company all the way along the coast to Gibraltar. In the medium to long term, there are plans to run up to Nerja and Almuñecar linking the east and the west.
The Water Taxi service, which will be based in Malaga Port aims to revolutionize the taxi business and connect Malaga and Marbella within 45 minutes. The company has currently received authorization to operate from Marbella, Benalmadena and Fuengirola and hopes be accepted also by Puerto Banus in the near future.
In terms of tariffs, which are still to be confirmed, a 20 minute taxi ride to Benalmadena will cost around 10-12 euros, while rides to Marbella will cost around 25-30 euros. The company has said that they will combine quick service with leisurely tourist trips according to demand from the general public.