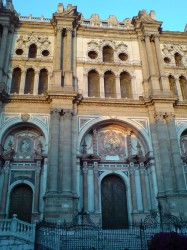 According to the Malaga Councillor for Tourism and Sport, Elias Bendodo, Malaga City is the favourite destination for cultural tourism and city breaks in the whole of Andalucia. Nationally, the city is streets ahead of Madrid, Cordoba, Sevilla and San Sebastian, coming second only to Barcelona.
Malaga should be very pleased with last year's results which showed that 853,481 tourists booked into hotels in the city in 2010, which was 14.35 per cent more than in 2009, and 8.9 per cent more than 2008, which was historically, the best year for tourism until these figures were released.
12.75 per cent more people stayed in the city, equalling a total of 1,591,552 visitors, with an average stay of 1.85 days.
Just over 54 per cent of the tourists who stayed in Malaga city hotels in 2010 were Spanish, some five per cent more than the previous year, and most of them came from the rest of Andalucia, followed closely by Madrid and Cataluña.
The number of foreign visitors has also risen, by 28.1 per cent. The UK continues to be the main interest market, with 63,430 people, an increase of 13.17 per cent. The UK is followed by Germany and France, then Holland, Norway, Sweden, Denmark and Switzerland, which rose by 50 per cent, and finally the USA and Italy which rose by 30 per cent.
The Malaga Tourism Department attended six national and 15 international fairs in France, Portugal, Belgium, Ireland, Czech Republic, Germany, the USA, Russia, Sweden, Holland and Italy.