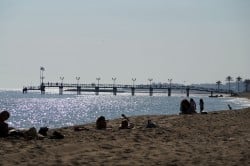 The Costa del Sol is popular for both, local and international tourists that visit every summer, and probably Marbella is one of the cities with the best beaches on the Coast and even in Spain.
Every summer Marbella receives thousands of tourists that come expecting great weather and beach paradise. Marbella counts with 23 different beaches in the 27 kilometers of its coast and is the city with the biggest number of blue flag beaches in Andalucia.
As the summer and the good weather is coming closer here you have a top 10 of the best beaches in Marbella: 
1. Playa Nueva Andalucia
The most exclusive beach that starts right at Puerto Banus and the Marina side running until the end. Offers a different feel than the beaches closer to the center and it's a must visit beach if you're holidaying in the area.
2. Playa Nagüeles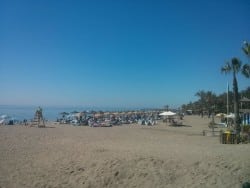 Really exclusive beach located in the heart of Marbella's Golden Mile. Transparent waters, clean sandy beach surrounded by the most exclusive names in the Coast.
3. Playa Fontanilla
One of the best urban beaches in town and with high occupancy. Fontanilla beach is one of the most popular beaches thanks to the plenty of bars, restaurants and activities that they offer.
4. Cabopino Beach
The perfect place to enjoy amazing sunrises or sunsets views as it borders the Cabopino port and its close to Las Dunas de Artola natural park.
5. Nikki Beach
Nikki beach is internationally famous and recognized as one of the best beaches and beach clubs in the world. Known for its popular parties and Sunday champagnes days, here you can party, eat and drink by the beach enjoying the great atmosphere and music in great company.
6. Playa Real de Zaragoza
Here you can find fine gold sand and clean blue waters, perfect for swimming. The beach has great "chiringuitos" (beach bars) where you can have a fantastic meal, coffee and drinks.
7. Playa Hermosa
Hermosa means beautiful in Spanish and this is truly a beautiful beach. Very close to the city center, just off the El Rosario exit. The perfect beach to relax and walk by the sea.
8. Playa de Alicate
This is one of the most popular beaches in the area amongst the local residents as well as the travelers. Perfect spot to enjoy your holidays as the beach is long and sandy and counts with all beach amenities for your entertainment.
9. Playa Rio Real
It's a great choice for holidaymakers and it gets very crowded during summer. It offers all the amenities as well as a hotel, some restaurants and bars. The exclusive Trocadero Arena restaurant is right on this beach.
10. Bounty Beach
A great beach near the city center with a relaxed atmosphere with chilled out music and reasonable prices. A great spot for the young ones.