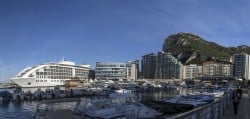 On Sunday 2 February Sunborn Gibraltar was escorted to her permanent home in Ocean Village Marina. Accompanied by flat calm seas and bright sunshine, a crowd gathered to witness the arrival of this game-changing yacht hotel.
Gregory Butcher, Chairman of Ocean Village, says: "When we were contacted a year ago by a Finnish company hoping to bring a luxury yacht hotel to Gibraltar, despite a clear need for five star accommodation, I had my doubts it would actually happen. I am delighted to say that it did and, after extensive ground engineering works at the Marina, Sunborn Gibraltar has become a prestigious addition to our complement of high profile tenants at Ocean Village. Of course we extend her a very warm welcome and, as her operators work towards an imminent opening, look forward to the benefits this asset will bring not only Ocean Village Marina but also Gibraltar as a whole." 
Indeed Sunborn Gibraltar slots nicely into very grand plans afoot for Ocean Village's developers. With an application approved by the World Trade Centers Association back in 2010, their 45 million pound seven-storey World Trade Center Gibraltar (WTCG) project is now back on track and expected to break ground in the first half of 2014. Elsewhere in Ocean Village a further 900m² of eco-friendly healthy-working offices are under construction with completion scheduled for spring.
Gregory continues, "With contracts already issued to WTCG's anchor tenant and negotiations ongoing for a 'big five' accountancy firm and a New York securities trader, literally hundreds of jobs will be created within metres of Sunborn Gibraltar. The Yacht Hotel will provide much-needed conferencing and event facilities alongside the kind of high quality executive accommodation that our commercial tenants expect, but currently cannot find in Gibraltar. What's more we're within walking distance of the new £65mn international airport terminal. Sunborn Gibraltar really has a prime position by berthing here at Ocean Village."
On the subject of berths, at 142 metres in length Sunborn Gibraltar has resulted in a minimal loss of available moorings, but Neil Crawford, Estate Director, says the Yacht Hotel provides an opportunity to improve Ocean Village Marina and its facilities.
"We are now in the process of reconfiguring the pontoons to make the Marina more efficient and create more berths", says Neil. "We will also be building a fixed pontoon walkway directly across the water from neighbouring Marina Bay to Ocean Village, saving a good ten minute walk and of particular use to yachtsmen who wish to visit the Pier Office or take advantage of our newly refurbished shower and toilet facilities. Moreover, the sheer size of Sunborn Gibraltar will unintentionally serve as a wind break in certain corners of the Marina, something the smaller boats will appreciate. And, they now have the five star services of the Yacht Hotel to hand – few marinas can boast such exclusivity."
Sunborn Gibraltar has also been well received by Ocean Village's retail and dining establishments. Twins John and Andy Hunter, owners of O'Reilly's Irish Pub and The Bridge Bar & Grill, are excited for Gibraltar's first five star hotel. Andy commented, "Commercially this can only be great news for Gibraltar, especially for Ocean Village, creating jobs and bringing more visitors with higher spending power to experience what Gibraltar now has to offer. Sunborn Gibraltar will give real choice to clients visiting and staying on the Rock and raise standards in every restaurant, bar, taxi and tour bus. O'Reilly's was one of the first businesses to invest in Ocean Village and, as we approach our fifth birthday on St Patrick's Day, a five star hotel on our doorstep is the icing on our Irish cake."
Owner of Chique Boutique, Debra Pott, was equally enthusiastic, "I am extremely excited at the new arrival of the floating hotel. I feel it can only have a positive impact on both my business and Ocean Village as a whole and I anticipate a brighter future for the Marina."
With Gibraltar consistently raising its profile on an international scale and generating a remarkable amount of new inward investment, Sunborn Gibraltar captures the 'mood of the moment'. Shipping, financial services, tourism, and more recently, online gaming (28 e-gaming firms now account for 20% of Gibraltar's GDP), form the keystones of Gibraltar's economy, which experienced GDP growth of 7.8% in 2012/2013 alone, and all have their place in Ocean Village Marina.