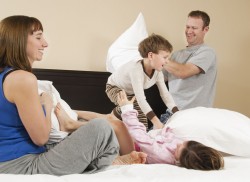 Here in Southern Spain the school summer holidays are nearly upon us, starting near the end of June and will last for almost 3 months. Right now, children and parents alike are looking forward to taking a break from work or house chores and relaxing in the summer heat with a refreshing iced drink.
I can see you dreaming now… how wonderful it will be not to have to leave the house so early in the morning to take the children to school, and how snuggly the bed will be if you get the chance of a lie in. Yes. Perfect, peaceful bliss…for a while.
However, three months can turn out to be a veeeeery long time, with boredom setting in quite quickly when active and inquisitive children are cooped up in the house and have no activities planned to fill in the void.
I've taken the liberty of writing a little boredom-free guide, full of information and activities for the parents who are truly stuck for what to do with their children during the seemingly endless break, when the pool at the urbanization just isn't cutting the mustard anymore… or even for parents who are bringing their children on holiday during the summer from other countries, and are unaware of activities outside of the hotel grounds.
In Marbella there is a place called Funny Beach which is open till 11:00pm. Here, the kids can enjoy go-carting, there are trampolines, an arcade, and even a beach restaurant called "Koko Beach" right in front of Funny Beach. After a long day playing at the beach, the family can always have a rest and a bite to eat here on site.
For the athletic ones, in Nueva Andalucia there is a sports club which has catered for children of all ages since 2003. "The multi sports club" offers "sports camps" for children over the summer (and Christmas) holidays. They offer a wide range of sports such as: tennis, padel, football basketball, hockey, touch rugby, circuit training and many more.
Go to www.themultisportsclub.com or call +34 952 814086 for more information.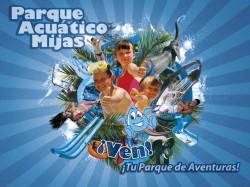 And of course, no summer experience would be complete in Spain without a little refreshing activity as well to cool off from the tremendous calor. You're in luck because Torremolinos and Mijas both have Aquaparks. Whether you choose "Aqualand" in Torremolinos or the smaller "Parque Aquatico" in Mijas, you and your family are sure to have a splashing good time!
Check out both websites for more information: www.aqualand.es/torremolinos and www.aquamijas.com
For the animal lovers, there's also plenty of choice…
You can experience dolphins close up for the first time in their own environment with "SPLASH", an attraction for the whole family at Selwo Marina – the only dolphinarium in Andalucia. Get wet with the dolphins with fun games, get to know their characteristics and even train with them! Selwo Marina is located in Benalmadena. For more information, check out the website: www.selwomarina.com (You might need someone to translate for you, as the site is all in Spanish!)
If you're after more of a "wild" time, you should check out Fuengirola zoo, also called "Bioparc" – which is great for keeping little monkeys entertained. There are plenty of animals to see and the entire park is baby and pushchair friendly. For more information, visit: www.bioparcfuengirola.es (There is an English language option)
If it should happen to rain – yes, very rarely of course, but it does happen! – then there's always the shopping centre La Cañada, where the kids can take in a movie, do a bit of shopping and older children can hang out with their friends. There is plenty to do and your kids could easily spend three to four hours there. There is a bowling alley, arcade, restaurants, an ice cream shop and tons of stores for them to browse around in. In the summer, La Cañada also extend their opening hours, so older children could also happily spend an evening there- perhaps at a late showing of a movie? La Canada normally stays open till 10:00pm, however in the summer they probably stay open a bit longer – but it's always prudent to check on opening and closing hours first.
However, if you want a wider selection of English movies, or V.O subtitled – you're probably better off taking a trip to the "Gran Marbella" cinema in Puerto Banus – where afterwards you can take a walk around the harbour and get a bite to eat – or "Cinesur" in Myramar shopping centre in Fuengirola – where afterwards you can shop til you drop!
Whatever the weather, and whatever you do – I hope you and your family have a great time this summer!