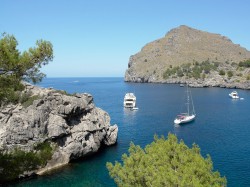 Skyscanner's Global Travel Awards have named Spain as the most family friendly country which is also best for night-life, making it the destination with the best of both worlds.
With cities like Madrid and Barcelona renowned worldwide for their after hours entertainment, as well as many family orientated resorts along the coast, the country remains the most popular holiday destination for British tourists.
The opinions of more than 600 travellers were collected by the flights comparison site Skyscanner which made some surprising revelations.
Although Paris is often thought of as the world's most romantic city, Italy stole the show with the award for "most romantic country" with 33% of the votes over France's 19%.
Italy was also voted the best destination for food and culture, despite France being renowned for its haute cuisine and the fact that it is home to some of the world's most famous museums and art galleries. Yara Paoli, Skyscanner Italian country expert was quoted as saying: "Italy is a very popular destination for British tourists and it's great to see Italy being recognised for what it can offer; excellent cuisine, romantic cities and superb cultural attractions."
The Caribbean won out on the most relaxing destination and also won awards for the most spectacular beaches. However, it was revealed that most travellers would pick Australia as their holiday destination if money were no object. Indeed, when the public were asked which country would they prefer if they had to live abroad, Australia came out on top, with the USA and Spain coming close behind.
Skyscanner is a leading travel search site providing instant on-line comparisons on flight prices for over 670,000 routes and on over 600 airlines, including flights to Spain as well car hire, deals and holidays. http://www.skyscanner.net/