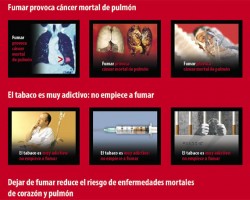 The neat black and white writing printed on the sides of cigarette packets announcing your impending death should you choose to partake of their wicked poison has been around for years, however Spain just recently upped their game in the smoking deterrent campaign. The sight that greeted smokers yesterday from the rows of cigarette packets in estancos across the country was not to be sneezed at, when images depicting extremely graphic smoking-related diseases were revealed to the public.
This drastic measure has come into effect only this week, but the actual deadline to abide by the law that has been passed is May 26th of this year. By this date all cigarette sales must be accompanied by these images, or the tobacconists will risk serious fines.
The question now is, do they really work? Do graphic pictures of smoking-related diseases deter anyone from smoking or do they just look disgusting? 
Belgium was actually the first country to introduce picture warnings on cigarette packets back in 2006, and according to health officials, "experience in countries that have introduced tobacco containers with such warnings has proven more effective for reporting the risks of smoking, has helped reduce their consumption and aided many smokers to quit permanently."
In Spain the images have received mixed messages, with some agreeing that it would deter smokers but still deeming the campaign "exaggerated" and "scary" and others declaring it made not one blind bit of difference.
One tobacconist was quoted as saying "If they really want people to quit, they should just raise the price of cigarettes".
I have always said that if smokers could see the damage that they are doing to themselves internally with these neat little soldiers of death then they would be closer to quitting than if the fact was never revealed to them at all. However, that said – while these measures might help people who already want to quit, or more "visually impressionable" smokers, I don't see them assisting at all with "die-hard" (excuse the pun) smokers who actually enjoy it.
Did you know that?
Tobacco is directly related to around 55,000 deaths a year in Spain. It is also the most preventable cause of premature death.
A male smoker is 22 times more likely to die of lung cancer and 10 times more likely to die of bronchitis or emphysema.
A female smoker is 12 times more likely to die of lung cancer and 10 times more likely to die of bronchitis or emphysema.
Between 80,000 and 100,000 adolescents in the world become addicted to tobacco every day.
90% of all cases of lung cancer are smoking related.