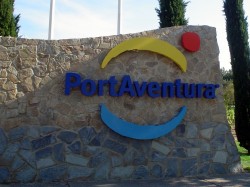 PortAventura is the most visited theme park and resort in Spain, situated in Salou, on the Costa Daurada (Golden Coast), approximately an hour drive south-west of Barcelona. Just last year, in 2011 the theme park opened its new themed area, SésamoAventura "Sesame Adventure", an area with rides and shows for the very youngest of the family. For this year, 2012, PortAventura is in full motion to construct one of its newest attractions that will break the skyline of PortAventura with PortAventura's newest Shambhala Ride.
In this Shambhala Ride you can live some of the greatest experiences of the great adventurers. Only the brave know what lurks in the long journeys that take them over huge lakes and mountains, climbing to new heights, abysmal falls and paths through dark tunnels. A new challenge that PortAventura theme park is preparing for you to enjoy in the 2012 season. It will be an experience that will leave you speechless and an adventure that you've never experienced before.
To the great mountaineers who are often asked why they hold a passion for mountaineering and they don't know how to explain it, this is the feeling that you will live in the new Shambhala Ride of PortAventura, you will not know how to explain all of the sensations that you will feel to be one of the first adventurers to rise to this new challenge. To all of the experiences, you have to add the stunning views that the theme park and the whole environment this attraction has to offer.
Shambhala Ride will be the tallest roller coaster standing at 76 meters high and with the longest fall in Europe of 78 meters. That's exactly when it reaches its maximum speed of 134 km/h.
Soon you can check out the new ride in PortAventura. Are you ready?