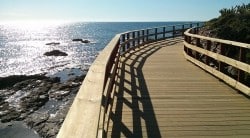 Senda Litoral is the name for the coastal path that links Mijas (La Cala) to Marbella.
Mijas coastal path already spans almost all its coastal zone, a stretch of almost 6 km linking La Cala de Mijas and Marbella. The project is promoted by the Council of Malaga and aims to connect the coastal 180 km of Malaga. The current path in Mijas is a wooden path that will alternate with compacted earth sections so the cleaning and emergency vehicles can pass by easily.
The whole path runs parallel to the sea, with a wide space between 4 and 6 meters, enough for both pedestrians and cyclists, with access to the beaches and with different levels: some high, others at ground level. 
It is an easy and pleasant path to walk for kinds of people, for those who simply want to enjoy a nice walk and even for those who want to practice sports such as running or biking for example. . It is a great way to enjoy a walk by the beach in good company and witness spectacular views of the Mediterranean as well as pretty sunsets or sunrises. Along the path there are multiple restaurants and beach lounges where you can enjoy a meal or drinks too.
The construction of the next stretch of the senda litoral is already underway, and it will go from "El Jinete" to Cabopino. They are considering the option of a similar stretch from La Cala de Mijas to Fuengirola, but the terrain makes it more complicated than the current one.
Mijas coastal path now runs most of the entire coastal area of the municipality and can be accessed from anywhere in Cala de Mijas o Playa de la Luna (Moon Beach). It is easily accessible by car as there are many parking spots around.