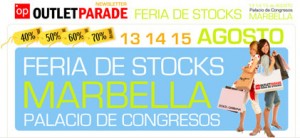 Head on down to the Palacio de Ferias and Congresos in Marbella during the 13th, 14th and 15th of August for the Outlet Parade (Fiesta de Los Stocks) Here you will find up to 70% discount on top designer and high street brands for men and women, such as Armani, John Galiano, Calvin Klein, Roberto Cavalli, Tommy Hilfiger, Blanco, Stradivarius and Pull and Bear to name but a few! This is the time when the shops liquidate all their accumulated stocks and you can find some real bargains to complete your summer wardrobe. For those who are not so clothes orientated, there will also be a fantastic selection of homewear, décor items, art and gifts!
Check out their website for more information: www.outletparade.com
Palacio De Ferias y Congresos de Marbella
Dirección: Calle de José Melia 2
29600 Marbella
Tel. +34 952 828 244
The Outlet Parade will start on Friday the 13th August from 17pm to 18pm ONLY for VIP visitors by invitation and will stay open through Saturday and Sunday from 12am to 24pm without interruption.
I'll be there! The question is… will you?