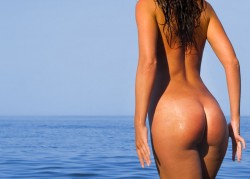 Good news for all naturists, as Mijas opens its first official nudist beach in El Chaparral.
This 500 metre stretch of sand is located at km 204 of the A-7 motorway and situated on Marina Beach near the Calaburras lighthouse. It is one of the least frequented parts of the Mijas coastline and access is only available to pedestrians.
Public or social nudity is nothing new to the world – it was common in ancient Egyptian times. Greek athletes participated in the Olympic Games unclothed. By the 1840's beaches in the United Kingdom were used for nude sunbathing, and the practice became even more popular in the 1950's along the French coastline. Nude beaches have since spread around the world. Though they are still few and far between. They are often referred to as free beaches, clothing optional beaches, and naturist beaches.
The beach in Mijas was officially opened last weekend and despite being classified as a "nudist beach" it is open to all bathers.