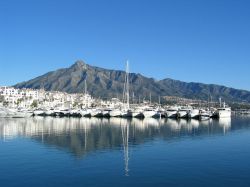 Travelers looking for a cheap but chic break this winter should head to Marbella, as the summer crowds and high prices drop, guaranteeing great holiday bargains. The Costa del Sol is popular with British tourists for its endless sandy beaches and the warm waters of the Med. Numbers boom with holidaymakers during the summer months, with Marbella's population alone increasing by 30%. But as winter approaches, falling crowds mean there is plenty of low cost accommodation available for a last minute beach break on HostelBookers.
Forget high rise hotels and packed out package resorts, Marbella is the most stylish spot on the Costa del Sol, renowned for its elegant marina packed with luxury yachts, and charming Spanish Old Quarter. Home to ten golf courses, chic shopping at Puerto Banus and the 'Golden Mile', a stretch of palatial beachfront villas, Marbella has long been the destination of choice for the well-heeled.
With 27km of coastline and 24 spotless beaches, Marbella is a year-round destination, and one of the warmest places in mainland Europe in winter, with temperatures reaching 25º c in December. But the crowds drop during the winter as sun-seekers flock to popular winter sun holidays such as the Caribbean, Turkey and Africa.
This is a boon for budget travelers, who can enjoy this luxury resort for less with HostelBookers. The budget accommodation booking site still has availability on a wide range of properties in Marbella, from boutique hostels to spacious apartments and hotels. If you're looking for a beachfront hostel Marbella will not disappoint. For example, prices at the Aparthotel Puerto Azul, set on Marbella's sea-front boulevard, and overlooking Fontanilla beach, start from just 19.67 per person per night. Boasting chic neutral decor, kitchens and cable television, and opening onto a furnished terrace with stunning sea views, these spacious suites are just some of the winter sun bargains available online now.
With these kinds of deals on luxury holiday destinations, the days of scrambling for sun loungers and overpriced cocktails are long gone.