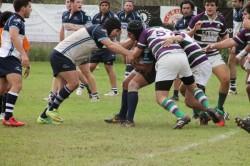 An initiative that began as a club for fans and lovers of rugby has now become one of the most important clubs within the national territory and with more future projection.
Marbella Rugby Club is a rugby team located in the city of Marbella in Malaga. Its facilities are located in Bahia Marbella (Highway N-340), opposite the hospital Costa del Sol. This club is founded by Robert Osborne, former rugby player of RACA Sevilla team, in 1988. His main idea was to try to connect other fans of this sport. 
The response to his initiative surpassed the most optimist expectations, being now the headquarters of the UD Marbesula, a large and diverse team of rugby men. These guys come from different backgrounds and places: British, Argentina, France and Romania for example and as well as few Spaniards. This diversity is the main feature of this club. In January 1989 the statutes of the Marbella Rugby Club were formalized and few weeks later the team was already competing in the Andalusian regional league.
In the twenty years that have passed by since its foundation, the club has improved a lot. In the beginnings they used to play in Sotogrande (Cádiz) and in 1993 they managed to open its own facilities in Marbella. Those times were the first stage of a future project in which the club have established as one of the most important ones in the country. The quarry of this club is one of the most important as it has many young kids playing and training here. The challenge is to keep training with the younger generations to have a first team that aspires to the highest standards of national rugby competitions.
The club has teams in all the different categories that depend on age groups, from senior and veterans to all the younger categories from age 6 to 18.