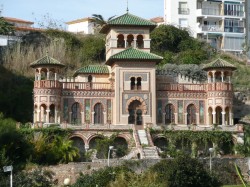 La Casa de los Navajas is a moorish kind of palace located in Torremolinos (Malaga) and it opens its doors after nearly a century after its construction.
Casa de los Navajas is exactly located in Playamar beach in Torremolinos, a small town of La Costa del Sol. It is a neo-Mudejar palace which means that is inspired by Moorish architecture. It was constructed almost a century ago and it is declared as an historical point of interest.
Their unique shapes protruding from the concrete blocks built around it in recent decades makes this building stand out in this area. It is the last major landmark building in Torremolinos and one of the most spectacular in the whole province, declared Historic Landmark in 1991 by the Andalusian Government and after an intense work of restoration, has its doors opened now for visitors and tourists. 
The mansion was acquired in the late nineties by the city of Torremolinos on the condition that the last of the daughters of Antonio Navajas continue inhabiting there three years more. Now, more than a decade later and numerous political debates about its use after, the property ceases to be only an exceptional picture located in the heart of Playamar and it can be visited by locals and tourists.
The house has two floors; first housed a large hall and several rooms, and the second was conceived as a lookout, with a large room and two towers that allow to get beautiful views of the Málaga coast.
There have been numerous discussions about the use of this monument and one of the ideas was turning it into a museum. After all these debates among politicians and neighbors, finally the picturesque building is open and can be visited, and it also serves as a place to host events and civil weddings or to celebrate big receptions.
The visit to "La casa de los Navajas" will have a cost of two euros, except for old age pensioners and children under 12 years, which can be accessed for free.