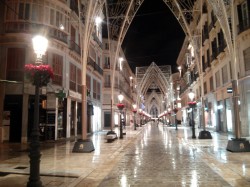 December is approaching soon, the season to be jolly and Malaga city centre is getting ready for this festive month.
Experience a more local typical Spanish Christmas season by visiting Malaga city centre during the month of December. The festive season is here and can already be felt in the main streets of the historic center.
Calle Larios is the most important and main street in the center and this year's decoration of the main street of the capital has a new design. The structure resembles the nave of religious buildings with impressive arches of lights and the switch on will take place on Friday 28th November. At the end of the street, in Constitucion square there will be a giant Christmas tree fully illuminated and this is a typical point where everyone gets photographed and a good idea for a season greetings postcard or picture. 
In addition there will be an event that starts at 6 pm in Plaza Constitucion along with the switch on with the lights and also a concert organized by the music station Cadena 100 and the City Town Hall of Malaga will be held from 7.30 pm. This will be a big party to celebrate the beginning of Christmas season in the city.
Close to calle Larios, exactly in Alameda Principal, the traditional Christmas market takes place. This street market is filled with numerous stalls where you can find all kinds of things, from ornaments and decorative items to firework and also some gourmet products especially the traditional Spanish nougat, very popular during this season.
Apart from enjoying the festive atmosphere of the streets of the city centre that are decorated with spectacular lights, each year more impressive, you can also enjoy other things during weekends especially. Street performers and animation shows are normal during this season for the entertainment of families and all kind of audiences.
Besides, Larios street is one of the most important shopping streets in the city so it is also a perfect place to do your Christmas shopping while getting the vibes of this special season.
Another interesting point close by is Plaza de la Marina, where there is usually an Ice ring with ice skating and other activities for kids and adults.