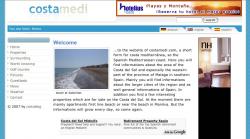 A few months ago I started a website called costamedi.com. It was just to show some information about the mediterranean coast in the province of Malaga but with a very bad design. Now that I am more and more professional in programming and designing I woulkd like to present the new design of this project. With this design I hope to get more visitors to the site. The website is in German, Englisch and Spanish, just in case you prefer another language.
The informations you can find on that website are as follows:
real estates – in the area of Manilva. All private sales from neighbours.
surroundings – informations about the most important towns in the province of Malaga in south Spain
worth knowing – about whole Spain, e.g. the Osborne Bull or some facts about Spain
golf courses – in the area of Estepona, Marbella and Sotogrande
picture gallery – from the Costa del Sol. I will add some more in a few days
In the future I will try to work more on this site und to add more informations, e.g. the marinas on the Costa del Sol or more things worth knowing about Spain and Andalusia. In the near future I will add more pictures.
More information: www.costamedi.com