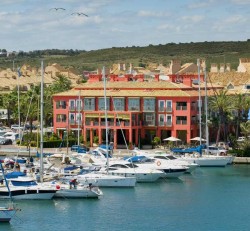 Today I will present you some different resorts around Andalucia, from Sotogrande to Marbella and Mijas to Gaucín.
Club Maritimo de Sotogrande
Situated in one of the Venetian-style waterfront buildings, the hallmark of Sotogrande Marina, Club Marítimo de Sotogrande was fully reformed in 2005 when it established its reputation as one of the Costa del Sol's top boutique hotels. Inside the hotel, the emphasis is on natural materials and, the wooden galleries that line the interior patio add a colonial air to the hotel. Guests have a choice among 33 double rooms, 8 suites and 4 penthouses. All suites and penthouses have sea. Nearby attractions include the Sotogrande Marina with a range of shops and restaurants. Several of the best golf courses on the Costa del Sol are nearby, making this hotel a good option for golfers. 
La Villa Marbella
La Villa Marbella gives you the tranquility of the Old Town yet close to the interesting points of the city. Each of the 4 suites have their own style and attention to detail, broadband internet, TV, minibar, CD player, air-conditioning. Two new buildings, La Villa Marbella Cottage and Lodge have been added to the accommodation with the same exacting standards and service – both are located 1 minute away from La Villa Marbella.
Hacienda Puerta del Sol
Built in traditional Andalusian farmhouse style, this rural, countryside hotel has a whitewashed façade and wrought-iron balconies. This 4 star hotel near Mijas is popular with families on holiday in Spain. The Costa del Sol's attractions such as beaches, golf courses and shopping are just a short journey away. Essentially a hotel for families with young children and couples, Hacienda Puerta del Sol provides good value accommodation accompanied by one of the best views at a hotel on the Costa del Sol.
Villa Padierna
Villa Padierna resort is a perfect place to soak in the Mediterranean sun on the Costa del Sol, watch the spectacular sunsets and enjoy an unforgettable stay in Marbella. All 118 guestrooms and suites provide visitors with elegance, spaciousness and a comforting array of amenities. Each room has spectacular views of the golf course and surrounding mountains. Villa Padierna also offers nine wonderful suites and villas. For the taste nerves, five restaurants and bars will provide you with a great choice of international food or buffet. For beach lovers, the hotel has a partnership with Puro Beach, the most exclusive and trendy beach club in Marbella. After a game on the beautiful golf courses surrounding the hotel, be pampered at the exclusive Thermae Spa with more than 2,000 square meters: Indoor pool, plunge pool and Turkish bath. There are eight themed baths and steam rooms with two saunas, 12 treatment rooms, physiotherapy services, full-service beauty salon nearby and a multi-lingual staff caring for the guest.
Hacienda La Herriza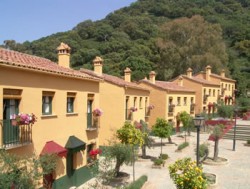 Hacienda La Herriza offers on this countryside close to the Costa del Sol. This enchanting 17 spacious room hotel is far away from the hustle and bustle of the mass tourist sites. The charmingly equipped andalusian cottages and Spanish Cortijo Suites assure an unforgettable holiday. Besides the friendly and efficient services, the outstanding interiors are designed to provide style and comfort, which will also savour the spectacular mountain and valley views in the heart of Ronda, from the restaurant as well as from the elegant lounge and extensive gardens with swimming pool. One Spanish and two international chefs aim to serve some of the best cuisine in Andalusia. La Herriza is perfectly situated in the heart of the real Andalusia. There are also a whole range of outdoor activities where you can enjoy hiking, cycling, horseback riding, fishing or merely escape the strain and stresses of modern living.