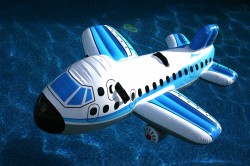 Malaga Airport is the closest major airport to Costa del Sol. Málaga Airport is the fourth busiest airport in Spain after Madrid-Barajas, Barcelona and Palma de Mallorca. It is an important airport for Spanish tourism as it is the main international airport serving the Costa Del Sol. The airport has flight connections to over 60 countries worldwide, and over 12.8 million passengers passed through it in 2011.
Málaga Airport is the international airport of Andalucia accounting for 85 percent of its international traffic and is the only one offering a wide variety of international destinations. The airport, connected to the Costa Del Sol, has a daily link with twenty cities in Spain and over one hundred cities in Europe. Direct flights also operate to Africa, the Middle East and also to North America in the summer season. Right now, 48 airlines operate out of Malaga Airport. Malaga Airport offers nonstop flights to 111 cities. Every week, at least 378 domestic flights and 952 international flights depart from Malaga Airport.
From the airport you can get a train, a bus or a taxi into town, or hire a car. A bus costs €2 and is very convenient, running every 30 minutes and stopping at Alameda Principal and Paseo del Parque, where most of the local buses that serve the city stop as well. The stop names are shown on an electronic display inside the bus so you can tell when to get off. Note that this bus used to be called nr. 19. Renting a car at Málaga's airport is relatively cheap, but it is advisable to book in advance. Taxis from the airport charge a minimum fare of € 20 even for nearby destinations.
No visa is necessary for visitors from countries covered by the Schengen Agreement, in which case a valid passport is sufficient for stays of up to 90 days. This includes the United States, UK, and Australia. Those traveling from within the EU with a valid EU passport can stay as long as they would like. The majority of other visitors will need to obtain a tourist visa from a Spanish embassy in a major city in their home country.
Skyscanner is a great site from flights to Costa del Sol. They have rates starting at 45 euro. Watch out for December as it is the most expensive month to fly. Volagratis.it, easyjet, ryanair, and edreams are also great sites to for a cheap flights comparison from Europe. If you are flying from the US, kayak.com, onetravel, expedia, and cheapflights.com are also great sites for a cheap flight comparison. Always price check before booking your flight. Remember that it is ideal to book the flight 3 to 4 months in advance to get the best price. If you wait till the last minute, you will end up paying the price. Also if you try to book too far in advance, not all of the flights will be available, especially the ones at reasonable prices.