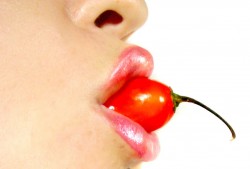 "Sex sells" A truer word regarding marketing and advertising has never been spoken, so when I heard about this titillating gastronomical event I just had to write about it.
Around 60 establishments have signed up to participate in the second annual "Erotic Tapas Route" which is being held in Fuengirola town from 1st to 21st November. Bars and restaurants will be offering erotically designed tapas for €1,50 each. This campaign is purported as being a way to promote bars and restaurants in what is typically a slow month. And you can certainly guess why….!
Those inquisitive souls who wish to participate should collect a "tapas passport" from the Town Hall (ayuntamiento) Tourist office, or any of the included establishments. A stamp is issued after eating an erotic tapa in each venue and a prize draw will take place for those who have accumulated more than 10 stamps. (Considering there are 60 bars and restaurants participating, that shouldn't be too hard!)
This years event will be continuing one week longer than the first "Erotic Tapas Route" which was held in 2009.
Although it's slightly out of my way – I think I will go along just to see what they come up with! The mind boggles…