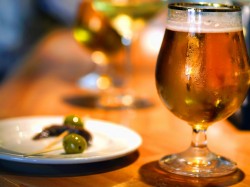 A trip to Marbella Port would not be complete without a visit to the amazing "Patagonia" Argentinian tapas bar. (so named after an actual region of South America in Southern Argentina and Chile extending from the Río Colorado to the Straits of Magellan and from the Andes to the Atlantic Ocean.) The study of its original inhabitants, the Tehuelche ("the Patagonian giants"), and its unusual wildlife have attracted many scientific expeditions, including that of Charles Darwin between 1831-1836.
The tradition of Tapa's (meaning lid or cover in Spanish) is somewhat confusing, as some say it dates back to the reign of King Alfonso 10th, between 1886 and 1931 when due to an illness, the King had to take small bites of food with some wine between meals. Once recovered from the disease, the king decreed that no wine was to be served in any of the inns of Castile, unless accompanied by something to eat. This was indeed a wise precaution to counteract the adverse effects of alcohol on those people who, through lack of money to buy a nourishing meal, drank alcohol on an empty stomach.
Alternatively, you could choose to believe what may be a more logical theory, since "tapar" literally means "to cover". The name could simply have come from the olden day tradition of covering a cup of wine with a small piece of food to keep the flies away.
Whichever its beginnings, whether entirely humble or enviably royal, it's fair to say that the tapa of today has evolved into something wholly international, with its influence spreading all over the world encompassing various different cuisines. The modern day tapa has become exotic, versatile and a popular way to enjoy a good meal.
From the moment you step into "Patagonia" your senses are overwhelmed by the delicious scents of cooking meats and you are met and greeted by the friendly Argentinian staff.
With a menu that consists of such yummy fares as: grilled provolone cheese – you have to try it to believe the taste, Morcilla – with its sweet, nutty flavour far removed from the greasy burnt offerings served at English breakfast cafés along the coast, Empanadas – which are delicious small fried pastries filled with a choice of either chicken or mince and vegetables, and not to mention the world-renowned meats. During a conversation with an Argentinian friend, I asked what was the reason that Argentinian meat was so popular, as nobody can deny it has international fame. He replied that the Argentinians keep their cows "very fit" and only allow them to walk and graze on their flat fields, thereby ensuring that they have hardly any fat, making a much leaner, succulent cut of meat.
If you're stuck for what to choose and are looking for a more economical fare, try Skirt Steak "a punto", it simply melts in your mouth and comes with a side of baked potato to satisfy even the most voracious of appetites. If you like your food a little more picante, make sure you cover it with lashings of Chimmichurri (a sauce comprised of garlic, vinegar, chilli and salt. However, oregano, pepper, thyme, onion and parsley are often added as well) for a truly authentic Argentinian experience.
A group of four can comfortably afford a wide selection of tapas – accompanied perhaps by a sparkling Lambrusco dell' Emilia, for no other reason that this rosé wine is perfectly sweet and refreshing to the palate after such a wonderful combination of flavours.
After your (no doubt) satisfying meal you're only a hop, skip and jump away from Marbella's favourite night-spots such as Buddha and Mombasa should you desire to dance the night away…
Address:
Calle Acera de la Marina 2
29600 Marbella
Opening Times / Horario de Servicio
Lun / Mon: 13 – 16:00 — 20 – 23:30 h
Mar / Tues: Cerrado / Closed
Mié / Wed: 13 – 16:00 — 20 – 23:30 h
Jue / Thurs: 13 – 16:00 — 20 – 23:30 h
Vie / Fri: 13 – 16:00 — 20 – 23:30 h
Sáb / Sat: 13 – 16:00 — 20 – 23:30 h
Dom / Sun: 13 – 16:00 — 20 – 23:30 h