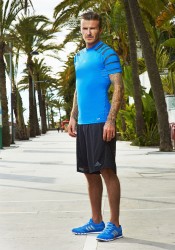 As some of you might know famous English footballer David Beckham was in Marbella just a few weeks ago to shoot the new TV spot for sportswear manufacturer Adidas. Finally we got some images and the new ad itself so we can see Marbella on TV and in pictures. The ad shows  the new adidas climacool running shoes, the best 360 ventilated running shoe around. That's why they chose hot and sunny Marbella, because the shoe is "Cool from every angle."
Just have a look at the photos and you will recognise Marbella and the beachfront without a problem. In the TV ad it's a little bit more difficult to recognise it but we hope this will bring some good publicity to Marbella. Maybe some of you will even recognise the bar on the corner.
Enjoy the video below.