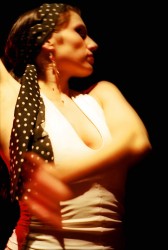 Cómpeta is preparing an exciting dance gala which will last for two nights over the first weekend in December. An fantastic line-up of artists has been confirmed for the event which will include a variety of dances – everything from flamenco, ballet and even tap.
It has been announced that the new gymnasium in the secondary school of the town will be the venue. Director and founder of the organisation, Reach4Dance, Ray Rowden, said that the gymnasium was an ideal location with great views for the audience, on top of which there is a separate space for a bar and tapas service.
Amongst those dancers in the line-up will be Matthew Powell, who is presently dancing in the exceptionally successful production of The Phantom of the Opera in London's West End and ballerina Julianne Rice-Oxley – who will perform a Strauss waltz, a pas de deux from Coppelia and the fabulous routine from Le Corsaire popularised by Fonteyn and Nureyev.
Also making an appearance will be four of the top graduates from Elmhurst Ballet School including Yamato Mashiko who was born in Japan and has been dancing since age 10. He studied at the Royal Ballet Summer School in 2006 and entered Elmhurst two years later. This year, he performed in the Lausanne Gala in Tokyo.
Flamenco dancer Juan Luis El Borde will also make an appearance as part of the local talent.