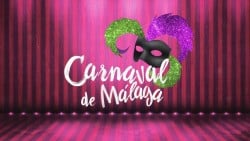 The typical spanish party "carnaval" will be taking place in Malaga from 30th January to 7th Febraury this year.
Carnival is a celebration originally from Rome that extended through all of Europe during the Middle Ages. It is one of most popular pagan's holidays and most celebrated in the world right now, being the most popular event of the year in cities like Venice (Italy) or all over Brazil.
Carnival in Spain are not as esthetically beautiful as in Venice or don't have the traditional music and dance folklore as in Brazil, it is still a charming event full of vibrant costumes, masks, smiles and fun where you can dress up as superheroes, pirates, clowns or anything that you can think of. People of all ages take the chance to be someone else and dress up for Carnival, celebrating these holidays in the streets during the day and the night too. 
In Spain, it usually begins with the opening speech given by a local celebrity and continues during a week full of activities such as parades, street theatre and costume competitions.
This is the weekly schedule of the main activities happening during this Carnival week in Malaga, all of them taking place in Plaza de la Constitucion, at the end of Larios Street.
January 30: Proclamation of the inauguration of the street carnival with the opening speech at 9.30 pm followed by the election of God and Goddess of the Carnival.
January 31: In the morning, election of God and Goddess in children category. From 5.30pm onwards, a large carnival procession through the streets of the center will take place.
From 1 to 4 February: Every night groups performances.
February 5: At 9.30 pm starts the Drag Queen Competition.
February 6: Great Saturday of masks and costumes. In the morning there will be a children's competition. In the afternoon the traditional battle of flowers and costume contests in the bars of the city center.
February 7: In the morning, contest of songs. From 4pm the traditional Burial of the "boqueron" (anchovy), the traditional fish of Malaga.