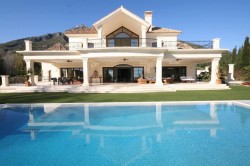 As anyone who has ever spent any time living in on Spain's Costa del Sol will tell you, Sierra Blanca is one of the most exclusive residential areas to be found anywhere in Marbella or indeed in the whole of southern Europe.
Home to many impressive private villas and luxurious apartment developments, Sierra Blanca is located in the foothills of the emblematic "La Concha" mountain which dominates the skyline along the stretch of prime real estate that runs beside the beach between Marbella and Puerto Banus known locally as 'The Golden Mile'.
Sierra Blanca is the ideal choice for discerning property buyers searching for a quality villa in a select area within easy striking distance of all that the centres of both Marbella and Puerto Banus have to offer, whilst being just a couple of minutes drive from the beach and several of the coast's best golf courses.
Whilst it's true to say house prices in Sierra Blanca have been affected by the downturn in the Spain's property market, they haven't fallen to anywhere near the same degree as has been seen in other perhaps less desirable areas.
Prices for a 2-bedroom apartment in Sierra Blanca typically start around the 1M Euros mark, rising to a mighty 20M Euros for the most elegant villas on the market in the area, so acquiring a property in Sierra Blanca is still very much the domain of only the privileged few.
Regardless of your budget, if you're thinking of buying a property in the area, securing the services of a respected professional real estate agent with a solid local knowledge is an absolute must.
They'll be able to advise you on the best properties currently available in the area to suit your specific requirements.
They'll also be able to negotiate directly with property sellers to make sure you acquire the property you want at the best possible price.
Your real estate agent should be able to put you in contact with an expert local property lawyer too.
Having a good property lawyer on your side is just as important as finding a good real estate agent, In fact without a lawyer, completing your purchase may be all but impossible.
Your lawyer will be there to guide you through the legalities involved in the property buying process here, which could be significantly different from that of your own country.
They'll take care of the deposit paying process on your behalf, carry out the due diligences necessary and keep you informed of any outstanding debts or other legal issues related to the property you want to buy.
They'll also prepare and present all the documentation required to complete the transaction, and be there when you sign the title deeds.
And once you have bought your property, your real estate agent should also be able to give a little after sales service and put you in touch with other trusted professionals such as interior design companies and property maintenance specialists to help you make the most of your new property in Spain.
Another thing that is of great interest to a number of foreign buyers looking at Spain as the ideal place to acquire a property right now is that the Spanish government announced at the end of 2012 that they are now studying proposals to grant full residency to all foreign buyers purchasing property over the 160.000 Euro mark.
This is seen by the government as a way of potentially stimulating property sales in what is an extremely static market and is a move that's already been introduced in countries such as neighbouring Portugal and Ireland.
An announcement regarding this proposal is due in the early part of 2013.