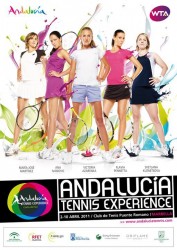 Marbella will once again become the epicentre of world of women's tennis with the hosting of the Andalucía Tennis Experience 2011 this coming April. This Tournament is the third edition of its kind and will be held between April 2nd and 10th at the Club de Tenis Puente Romano in Marbella.
After last year's second edition of the Tournament which has served to make this exciting project even more popular, as some of the biggest names in tennis are set to take part in this year's event. In statistics, just over 20,000 fans attended the event last year, with a global TV audience of 18,000,000 and in its two years of existence it has played host to some famous Spanish and international tennis players.
The first three tennis pro's who will be playing were revealed this morning and their presence will do well on the way to ensuring some fantastic high quality tennis. The Tournament will be turning the spotlight on the previous world number one, Serbian Ana Ivanovic, who is one of the players on the circuit who seems to attract the most media attention, not it seems – only for her game skills, but also for her sultry good looks. Ivanovic is returning to the event after last year's smash debut, along with Belorussia's Victoria Azarenka, who is also certain to be amongst the favourites to win. For those looking to support closer to home, Spain's Carla Suárez will also be looking to do better than last time and finally win the title which has unfortunately slipped through her fingers in the last two years.
Game on, ladies!