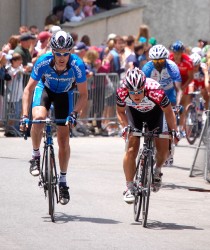 The regional government, the Junta de Andalucia has announced that the Costa del Sol will host 5 major sporting events in 2011. The start of the cycling event "Vuelta a Andalucia" will take place on February 20th , starting from Benahavis. Also in cycling, stages of the national tour "Vuelta Ciclista a España" will be hosted at the end of August and the Desafio del Buda cycling competition will take place in the Axarquia region.
In March, the Andalucia Golf Open will be held at the Malaga Golf Parador.
In April, Marbella will once again play host to the Andalucia Tennis Experience. It has also been announced that there are 11 planned events in total for Andalucia in 2011, which the Junta hopes will promote the region internationally.
Through-out the rest of Andalucia other sporting events include: the Gran Premio de Motociclismo in Jerez de la Frontera in April and the Desafio Doñana triathlon.
Almeria will also host the Extreme 40 Sailing Series while the Andalucia Valderrama Golf Masters will be held in San Roque (Cadiz).
Other unmissable events include: the Andalucia Bike Race in Cordoba and Jaen; the Punta Umbria World Cross Championship in Huelva; the Euroando hiking event, and the Sierra Nevada Limite Road cycling event.