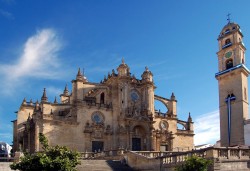 If you have always dreamt of an unforgettable travel experience in Spain, then you can accomplish this dream by visiting Jerez, Spain. Known locally as Jerez de la Frontera, this city is one of the most ancient ones and boasts of several attractions.
The small city of Jerez de la Frontera resembles Sevilla in many respects. Lying within close proximity to Sevilla, the unique features of Jerez city lies in its horses, sherry and flamencoes. Jerez de la Frontera travel will be virtually incomplete without paying a visit to the Royal Andalusia Equestrian Art School that conducts horse shows annually. To catch a glimpse of the local culture, you can visit the charming gypsy towns of Buleria and San Miguel. 
Jerez de la Frontera Attractions
The features that make Jerez de la Frontera superior to other Spanish cities include the well maintained mosque, lush gardens, remodelled ancient baths and the beautiful Alcazar protected by strong walls. Tourists can visit the Baroque Villavicencia Palace near Alcazar to get an aerial view of the entire Jerez city. The Palacio Atalaya is also well worth a visit where tourists can hear the beats of over 300 clocks ringing simultaneously during noon. This is not all. Jerez travel can take tourists to other interesting locales such as towering churches and ancient villages.
A visit to the Pedestrian centre is recommended to know more about the old Baroque style architecture comprising of houses and cathedrals. At the Centro Andaluz de Flamenco museum cum school, tourists can see and enjoy video albums of famous flamenco celebrities. The Museo Taurino is a museum exclusively dedicated to bulls that are an integral part of the Jerez landscape.
Bars/Culture and Dance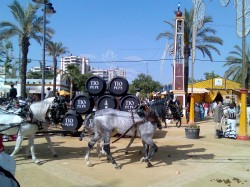 Jerez in Andalusia is a place that is extremely popular for its tasty sherry. A vast majority of the bars in Jerez de la Frontera city have barrels of sherry at their entrance. The unique culture of Jerez is also something that entices tourists to this place all the year round.
As you stroll leisurely through the streets of Jerez city you can listen to the beats of flamenco dance emanating from one of the clubs or bars. You can also witness beautiful gypsy girls swaying to the music on the dance floors. You can schedule your Jerez holiday during February or March to have a first hand experience of the culture and tradition of this place. During these months, the city hosts the festival of music and dance or Flamenco Festival of Jerez and brims with life and energy.
Jerez holiday rentals are of many types and you can choose one based on your needs and budget. If you are thinking of visiting this charming city in the near future, then you can also make your car booking in advance. With car hire from Jerez airport, you can easily pick your car straight from the airport and start exploring the city instantly. So what are you waiting for? Plan your Jerez travel today and get set for an unmatched holiday!
Every April Jerez de la Frontera shows the Motorcycle Grand Prix on the Circuito de Jerez racing circuit which is close to the main city. In 2012 The MotoGP will be between 27th and 29th of April. Definetely an event not to be missed.