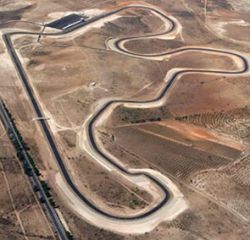 Trackdays Spain has signed an agreement with the fantastic Tabernas Circuit in Almeria for their next event on Wednesday 29th October for such event I recommend to sleep in the surroundings during those day to better enjoy the Circuit, Hotel Almeria last time was not too bad at all in fact. This circuit, in the heart of spaghetti western country, is the perfect place to put cars and their drivers to the test in a safe, exciting environment. The circuit is just two and a half hours away from Malaga and an easy drive from Almeria and Granada. It provides modern facilities including an onsite restaurant, impressive pit garages and a modern hospital. The driving experience is amazing too! The 4km track features loads of run off, 14 exhilarating corners, one tight chicane and a seriously fast 900m straight.
A trackday is the perfect opportunity for car lovers to see exactly what their cars can do around a race track, meet like-minded people and admire beautiful cars. It's non-competitive, friendly and great value for money. There has never been any car to car contact on Trackdays Spain's events and they take safety very seriously. Their friendly days maximise track time and ensure every client has a wonderful driving experience.
For just 279 Euros drivers can bring their own car to Almeria for a whole day of adrenaline-fuelled driving and bring along a second driver for free. The Trackdays Spain team is on hand to run through the rules of the day, offer instruction, make sure everyone is driving safely and making the most of the time on track.
Hire a Radical SR3 Supersport for the day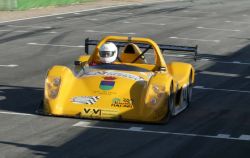 Trackdays Spain have announced they have struck a deal with the Radical Spain team to hire out their 100,000€ racecars at the Almeria circuit. Instructor and Event Organiser Andy Turnbull explains why he is so excited about this deal. "Radical's cars are awesome machines, capable of 0-60mph in around 3 seconds and speeds of well over 150mph! Super sticky slick tyres, Formula 1 style wings and aerodynamic design help these cars achieve unbelievable cornering speeds and braking unlike anything on a road car.
Normally such valuable and delicate cars aren't available for hire, so this is an amazing opportunity. There really is nothing much outside Formula 1 that will give you the same sensation of speed and handling that you'll get in a Radical, and unlike a Formula 1 car, a passenger can come along for the ride!"
Trackdays Spain is now able to offer corporate events for companies that want to entertain clients or reward staff with a very special trackday experience. The corporate package includes car hire, instruction, catering and can be held for a minimum of six people.
If you are interested attending the next trackday on Wednesday October 29th, hiring a Radical or a Lotus Elise or organising a corporate event email info@trackdaysspain.com or call 657 824 813. It's free to watch and just 279 Euros to bring your own car.