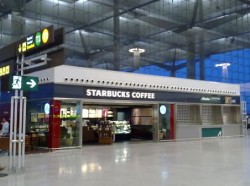 The coffee company is expected to settle down in El Corte Inglés in Málaga city and in Puerto Banus after polling multiple locations in both areas.
Starbucks Coffee is ready to begin its expansion in the province of Málaga. The famous coffee company so far only had a coffee shop at the airport and has announced the opening of two new stores in the capital and in Puerto Banus before the summer.
The American world's largest café, which opened its first store in the city coinciding with the opening of the new terminal T-3 in 2010, spent months polling various locations in both places but finally decided to open in El Corte Ingles in avenida Andalucía in Malaga and in Puerto Banús, on the coast of Marbella. 
The American chain founded in Seattle is very famous throughout the world and recently just celebrated its twelfth anniversary in Spain. Apparently they were looking for very spacious premises because they need a large space in which to develop their different production processes.
Before opening, the coffee company must solve various pending issues, such as the possibility of having direct access to the street, due to the malls not being open every day of the week and having limitations in the opening hours.
Starbucks confirmed new openings
The company has confirmed these new openings through Facebook and this news has generated a lot of excitement in the city. Starbucks has offered fifteen jobs between both locations and these offers have received a large number of applications as many people would like to work in such a big and popular company.
These openings are part of an ambitious expansion plan for Europe. Uscategui Herman, director of Global Strategy at Starbucks Coffee Company said, that they often seek locations with several million inhabitants, although they also settle for strategic global locations.
At present, the company has 17,800 local cafes scattered in 53 countries. The first store opened in Spain was in Madrid in April 2002, and since then their growth has increased with more and more stores around the country. They now have 73 stores between Madrid, Barcelona, Seville and Valencia and ten stores at different airports. All of these stores receive millions of visits per year and we now are lucky to enjoy a good cup of Starbucks coffee not only in the airport, but also in these new locations in Malaga and Marbella.