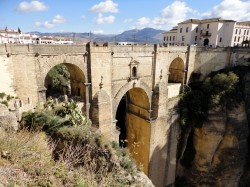 Ronda is a small town famous to tourists from all over the world. It is located about 100km Northwest from the city of Málaga and 50km North of the Costa del Sol in an elevation of 723m in the hillside called Serrania de Ronda. The Old Town or in Spanish just La Ciudad is stamped with moorish characteristics. Since the 5th century the islamic dominated this part of Spain. Ronda was very important due to its elevated situation.
The Old Town is situated on an all around steep sloping plateau and is separated from the younger district called El Mercadillo, through a 100m deep gap called El Tajo, built by the river Rio Guadalevín. There are three ways to cross this gap, the Puente Romano – Roman Bridge, the Puente Viejo – Old Bridge as well known as Puente Arabe – Arab Bridge, and the well known Puente Nuevo – New Bridge, which was built between 1761 and 1793 and is the tallest of all three bridges and still in use for cars. The Puente Nuevo is the main photo object of Ronda.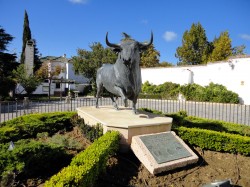 The second most important is the bullring. Ronda had a very important role in the evolution of the bullfighting. In the 18th and 19th century three generations of members of the family Romero developed those rules which are still used to fight known as the Escuela Rondeña – the Ronda-School.
Ronda has the oldest bullfighting ring in Spain. Built in 1784 in a Neoclassical style by architect José Martin de Aldehuela, who also designed the Puento Nuevo. The arena has a diameter of 66 metres. The bullring can hold almost 1.250 spectators and also houses a museum dedicated to the sport.
Every year Ronda celebrates a unique historical bullfight, the Corrida Goyesca, where bullfighters wear costumes from the time of Spanish painter Francisco Goya. Even fashion designer Giorgio Armani designed a unique bullfighting costume in 2009 for famed bullfighter and testimonial Cayetano Rivera Ordóñez. Before, in 1994 popstar Madonna used the bullring in her music video "Take A Bow" as scenery.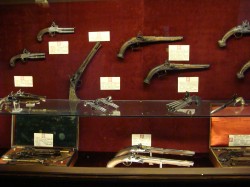 American artists Ernest Hemingway and Orson Welles spent many summers in Ronda as part-time residents of Ronda's old town. Both wrote about Ronda's beauty and famous bull-fighting traditions. Their collective accounts have contributed to Ronda's popularity over time. Orson Welles' ashes were buried on the property of a long time friend, bullfighter Antonio Ordónez.
More objects of interest in Ronda are the church Santa María la Mayor on the Plaza Duquesa de Parcent, as well as the Casa del Gigante and the Palacio de Mondragón, including the museum of the city, Museo Municipal, as well as the well obtained patio and a moorish style garden. The partially intact Baños árabes – Arab baths, are found below the city and date back to the 13th and 14th centuries.