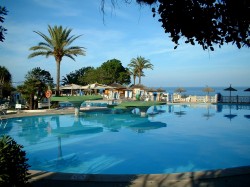 If you have teenage children then they may have reached the age where they would rather not go on holiday with mum and dad. If this is the case then it is worth considering an activity based family holiday that none of you will forget and that will make your children the envy of their friends.
What Type Of Family Holiday?
Everyone dreads the planning that goes with organising family holidays abroad, however, if you have teenage children then joining an organised activity holiday is a great option. Organised activity holidays mean you will be part of a group made up of other families with children of similar ages. The main advantage is that everything from activities and excursions, to accommodation and transport will be organised for you, making the whole experience less stressful. 
Where To Go?
When you think of adventure you may be under the misapprehension that you will need to travel a great distance but in fact there is adventure to be had much closer to home. Spain may not be well known as an adventure holiday destination but as a country it has much to offer the family looking for adventure.
As a destination, Spain has a huge variety of landscapes and climates so there are many different adventures to be had. If you visit in the summer months then destinations in Spain such as Mallorca offer the opportunity for activities such as kayaking, horseriding and trekking. Another activity which is popular in Spain is cycling and joining a cycling tour which concentrates on a specific region means that you will get to see some of Spain that you would probably not otherwise visit. Walking and trekking tours of Spanish regions are also popular and provide great opportunities to explore the amazing landscape.
For families looking for winter adventure, then Spain is also a great destination offering the opportunity for skiing and snowboarding as well as other snow-based adventures.
Consider Before You Travel
If your children are still at school then you will be restricted to taking your holiday in the school holidays. Taking teenagers on holiday also means that you need to be aware of exams and tests that could affect the time of year that you go.
The weather in the place you plan to visit should also be a consideration, especially if you are having an adventure holiday. No-one will have much fun if the temperature is too hot or if it is likely to be wet. How far you want to travel is less of a consideration with older children but should nevertheless be included in any decision making.
Whether you visit in winter or summer, if you choose Spain for your family adventure then you will not be disappointed. There is a huge range of activities on offer here and there is bound to be something to suit all members of the family. Added to this, the fact that you will be holidaying with other families who have children the same age, means that there should be less pressure to keep them entertained so you will have the opportunity to relax and enjoy your well earned break.
AUTHOR BIO:
Peter Smith writes regularly about a wide range of travel concepts for travel websites and blogs. These travel concepts include family holidays abroad and activity holidays.