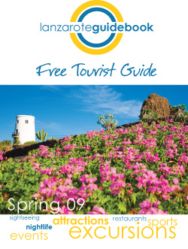 Planning a holiday in Lanzarote? Or simply want to find out more about this unique Canary Island? Then download the new edition of Lanzarote Guidebook – the free, in-depth tourist guide to the Island of Fire.
Lanzarote Guidebook is researched and written by long term island residents. Which means that it provides readers with the real inside track to the island. And it is published every quarter. Ensuring that information is always accurate and up to date.
The new Spring 2009 edition is packed with useful information for visitors. Along with some fantastic pictures of the island from local photographer James Mitchell. And can be downloaded for free at www.lanzaroteguidebook.com.
Lanzarote Guidebook contains comprehensive information about all of the island's resorts, towns and places. Including maps, restaurant and accommodation recommendations and sightseeing tips. As well as detailed information about where to find the best beaches on the island. An introduction to the works of the island born artist and architect Cesar Manrique. And a guide to all of the islands many attractions.
In addition Lanzarote Guidebook contains a handy Essentials section. Providing useful information on details such as bank opening times, hiring a car, driving on the island, duty free allowances, shop opening hours and a list of emergency contact numbers.
This indispensable guide is published in a handy and portable A5 format and is distributed free to tourists on the island via car hire companies, hotels and private villas.
Visitors to the Lanzarote Guidebook website will also find even more in-depth and detailed information about the island online. Where they can catch up on all of the latest island news, check live weather reports and use in-depth climate information to work out when best to visit. The site even features a Tourist Advice Line, which allows visitors to ask specific questions direct – along with interactive island maps.
Lanzarote Guidebook also features a large selection of over 300 apartments and holiday villas. Along with links to the leading low cost flight operators to the island. Enabling visitors to construct their own holiday online.
More Information:
Nick Ball
nick@lanzaroteguidebook.com
0034 660 121717