Located on the southern coast of Spain, the Costa del Sol is renowned for its breathtaking beaches, charming coastal towns, and year-round sunny weather. With over 150 kilometers of stunning coastline, this Mediterranean paradise offers an abundance of beach destinations that cater to every taste and preference. Whether you seek vibrant nightlife, peaceful seclusion, family-friendly atmospheres, or water sports adventures, the Costa del Sol has it all. In this article, we will explore some of the best beaches on the Costa del Sol that promise unforgettable experiences for beach lovers and sun-seekers alike.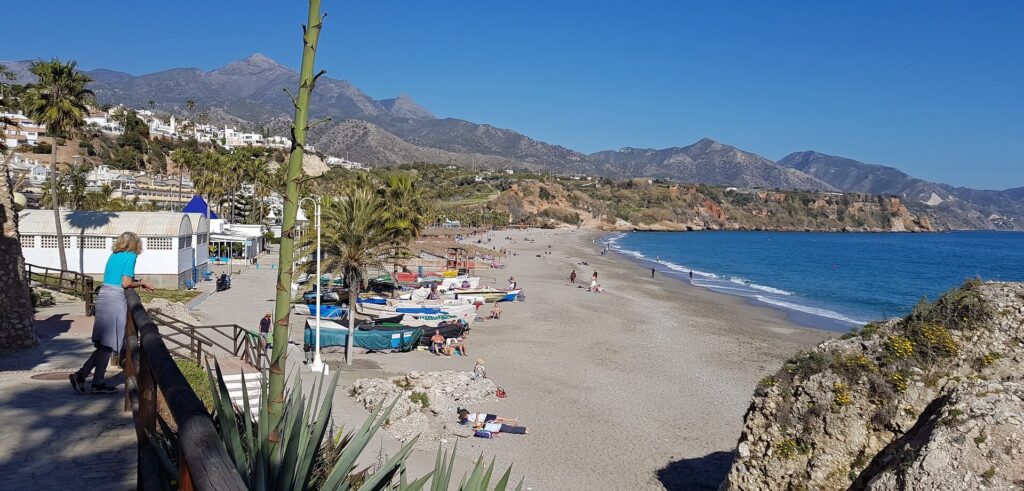 Playa de la Malagueta – Malaga
Situated in the heart of Malaga, Playa de la Malagueta is one of the most popular and vibrant urban beaches on the Costa del Sol. Its golden sands stretch for nearly one kilometer, offering ample space for sunbathing, beach games, or leisurely strolls. The beach is equipped with modern facilities, including showers, lifeguards, and beach bars serving refreshing drinks and delicious snacks. With its proximity to the city center, visitors can easily combine beach time with exploring the rich cultural heritage of Malaga.
Playa de Burriana – Nerja
Nestled in the picturesque town of Nerja, Playa de Burriana is a true gem of the Costa del Sol. This Blue Flag beach boasts crystal-clear turquoise waters and a wide sandy shore, making it ideal for families and water sports enthusiasts. From kayaking and paddleboarding to parasailing and snorkeling, there are plenty of activities to keep visitors entertained. The promenade behind the beach is lined with charming cafes, restaurants, and shops, offering a delightful seaside experience.
Playa de la Cala Mijas
Located in the town of Mijas Costa, Playa de la Cala Mijas is a stunning beach known for its natural beauty and tranquility. Backed by lush green hills and framed by rocky cliffs, this beach offers a peaceful retreat away from the bustling crowds. Its fine golden sand and gentle waves create a safe and inviting environment for swimming and relaxation. The beach is well-equipped with facilities, and the nearby promenade offers an array of restaurants and bars serving delightful local cuisine.
Playa de Cabopino – Marbella
Tucked away in a protected natural area near Marbella, Playa de Cabopino is a hidden gem that captivates visitors with its unspoiled beauty. This pristine beach stretches over 1.5 kilometers and is surrounded by sand dunes, pine forests, and clear azure waters. The beach has a relaxed and laid-back atmosphere, making it a favorite among naturists and those seeking a more secluded spot. The nearby Cabopino Marina offers a range of dining options and a picturesque setting to enjoy the sunset.
Playa de los Boliches – Fuengirola
Situated in the heart of Fuengirola, Playa de los Boliches is a long sandy beach that attracts locals and tourists alike. This Blue Flag beach offers a vibrant atmosphere with a wide range of water sports activities, beach volleyball courts, and children's play areas. Visitors can explore the charming promenade lined with shops, cafes, and restaurants, offering a fantastic selection of traditional Spanish delicacies and international cuisine. The beach is easily accessible and provides excellent facilities for a comfortable day by the sea.
Playa del Cristo – Estepona
Nestled in the charming town of Estepona, Playa del Cristo is a picturesque cove that enchants visitors with its natural beauty and tranquil ambiance. Sheltered by rocky cliffs, this Blue Flag beach offers calm and clear waters, making it perfect for swimming and snorkeling. The beach is renowned for its golden sand and shallow shoreline, making it safe and family-friendly. It also features excellent facilities, including beachside restaurants and bars where visitors can savor delicious seafood dishes while enjoying panoramic views of the Mediterranean.
Playa de El Palo – Malaga
For an authentic local experience, head to Playa de El Palo in the eastern part of Malaga. This charming fishing village offers a more traditional and laid-back atmosphere compared to its bustling counterparts. The beach is lined with traditional "chiringuitos" (beach bars) that serve delectable fresh seafood, allowing visitors to indulge in the region's culinary delights. Take a leisurely stroll along the promenade, admiring the colorful fishing boats and immersing yourself in the local culture.
Playa de Maro – Nerja
If you're in search of unspoiled natural beauty, Playa de Maro is a must-visit. Located just east of Nerja, this secluded beach is nestled beneath towering cliffs and offers pristine turquoise waters. Its pristine beauty and untouched surroundings make it a paradise for snorkelers and nature enthusiasts. Visitors can also explore the nearby Maro-Cerro Gordo Cliffs, a protected natural area with breathtaking views and scenic hiking trails.
Playa de El Bajondillo – Torremolinos
Situated in the heart of Torremolinos, Playa de El Bajondillo is a vibrant and bustling beach that never fails to impress. With its wide sandy shore, clear waters, and a lively promenade, it caters to a diverse range of beachgoers. Whether you're looking to soak up the sun, try water sports activities, or indulge in shopping and dining options, this beach has it all. It is well-connected, with easy access to the town's amenities and attractions.
Playa de La Fontanilla – Marbella
Last but certainly not least, Playa de La Fontanilla in Marbella is a favorite among locals and visitors alike. This lively beach offers a mix of relaxation and entertainment, with sun loungers, water sports facilities, and beachfront bars. The promenade along the beach is perfect for a leisurely stroll, and the surrounding area boasts upscale restaurants, trendy boutiques, and vibrant nightlife options.
Conclusion
The Costa del Sol, with its stunning beaches, warm Mediterranean climate, and charming coastal towns, offers a perfect beach getaway for travelers from around the world. From vibrant urban beaches to secluded coves, each beach on the Costa del Sol has its own unique charm and attractions. Whether you're seeking relaxation, water sports adventures, or a taste of local culture, the Costa del Sol's beaches have something for everyone. So pack your sunscreen, grab your beach towel, and get ready to immerse yourself in the beauty and splendor of the Costa del Sol's best beaches.