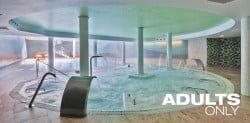 The Thalasso U-Spa at Barceló Hotel in Estepona offers a spa filled with water in its purest state, without treating or storing and piped clean straight from the Mediterranean, it is pure Thalassotherapy (sea water therapy).
This centre offers programs that provide benefits of the Mediterranean in its purest and most intense state thanks to the latest technology applied in all areas of the centre. To name few of this special programs or packages there are for health and beauty, anti stress or integral care among others. 
At the Barceló Estepona Thalasso Spa you can find the most complete and sophisticated facilities to tone and purify your body. There are different facilities for the tastes of everyone such as a marine therapeutic circuit, 11 marine hydrotherapy rooms, 19 Thalasso suites where you can get the most sophisticated beauty and well-being treatments, 5 suites for beauty rituals, relaxation rooms and a fitness centre.
Enjoy yourself a very complete seawater circuit that will be a unique sensory experience to provide maximum well-being. The circuit at the Barceló Estepona Thalasso Spa is designed for health purposes and it includes the following: dynamic pool with counter-current system, air water beds, cascades, hydro massage jets, contrast pool, cobblestone walkways, finnish sauna, hamman, aroma bath, ice fountain, various shower types and relaxation areas. A professional team is available at all times to guide and advise you.
They offer personalized treatments of the choices of the customers provided by specialists which include all kind of massages, oriental manual therapies and massages that combine ancient and the most contemporary techniques to achieve balance and harmony between body and mind.
There is a beauty area that is specialized in beauty treatments in the healthiest way possible as the professionals use a wide range of excellent quality products and the latest and most effective equipment to improve the vitality and health of your skin. Some of these treatments include radio-frequency and ultrasonic peeling, virtual mesotherapy and bio-stimulation.
The fitness centre consists of a fully-equipped gym with the latest technology applied to gyms and also includes cardiovascular and toning equipment. Like this you can follow your normal exercise routine while you are on a holiday or try the personal training program tailored by professional personal trainers in their facilities.