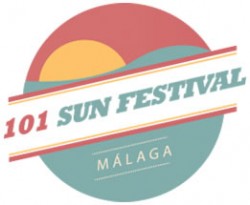 The 101 Sun Festival is a new indie rock music festival to be held in the south of Spain, in the city of Málaga during the weekend of 11, 12, 13 July 2014. The Athletics Stadium Málaga City will be the venue for this event that will count with the performances of national and international artists in a line-up open to all preferences in a privileged environment to create an unforgettable festival.
The first edition of the Sun Festival will take place on 11 and 12 July, and will be held at the Athletics Stadium Malaga City with concerts of famous artists such as Franz Ferdinand, Crystal Fighters, Amaral or Lori Meyers and many others. 
"La Termica" Culture Centre is the other venue where the festival will have a two days program during the daytime on 12 and 13 July 2014, from 12.00 to 16.00 hours, with concerts by The Royal Concept and national artists such as Second, Jack Knife, Full, Nora Norman, Smile and Maine Coon. Therefore, the initially planned concerts in the Plaza de Toros de la Malagueta will be held in this place, better suited for summer weather, with shows, exhibitions, food, drink and other surprises.
Franz Ferdinand are the big headline in this first edition of the 101 Sun Festival in Malaga, together with Crystal Fighters, Lori Meyers, Russian Red and Rinôçérôse. Besides them, the first visit in Spain of the British group The Family Rain can also be a good claim.
In the national scene, the 101 Sun Festival features several of the most important names in contemporary pop, led by Russian Red and Lori Meyers. Amaral is another of the bands participating that needs no introduction as it is one of the most successful groups in Spain in the last 15 years. Bizarre Love Triangle, one of the rock bands most successful of recent times will be there too and Polock, Havalina, Grey, Kill The Hipsters are some of the groups that complete the poster of this first edition.
Tickets prices start from € 47.00 and you can get them at: Ticketmaster.es , ticketea.com , malagaentradas.com.